Connectivity is one of the focal points of the new EU Strategy for Cooperation in the Indo-Pacific. The term is also central to the Connecting Europe and Asia Strategy and the EU-Japan Partnership on Sustainable Connectivity, while talks have begun with India on a connectivity-focused partnership. When calling for the establishment of a Global Connectivity Strategy in January, the European Parliament even announced the existence of Europe's connectivity philosophy. Connectivity has become a blueprint of its engagement abroad and a clear condition for a single geopolitical and geoeconomic narrative.
WHAT IS CONNECTIVITY?
Being connected is an emblematic trait of globalisation. From the Industrial Revolution, intercontinental communication, railways, global governance and eventually trade liberalisation have brought our societies closer together. The world has grown small. Today, we depend on the flow of goods, capital, data, people, technology and ideas, constantly travelling through a multitude of physical and informational infrastructures. Protecting the channel is as important as the output itself, as became clear when one of the world's arteries – the Suez Canal – was blocked in March.
Connectivity à la EU has four pillars: transport, energy, digital and human. They are founded on the principle that hyper-interconnectedness does not benefit everyone. There remain vast inequalities in broadband access, transportation networks and energy provision in states across Eastern Europe, Central and South Asia. Connectivity to an electricity grid, to roads and the Internet can stimulate enhanced exchange of economic and human capital. Europe remains the world's largest trade bloc and FDI benefactor, while Asia is home to a booming middle class. There is room for tighter cooperation.
SECURITISING CONNECTIVITY
Beyond the economic rationale, connectivity has retaliatory undertones. In its development of a singular connectivity philosophy, the EU presents an alternative to China's Belt and Road Initiative (BRI). At a cost of around $8 trillion over the next fifty years, and with 7,000 projects planned, this investment behemoth has made infrastructure an inter-state battleground. Controlling critical points of information and physical flow becomes an end in itself. Debates around China's purchase of Greek and Portuguese ports, or German electronics companies, have made this crystal clear.
In its attempt to manage the very channels of production, investment and communication, China is re-defining political spheres of influence. Flint and Zhu note that the territorial configuration of capitalism is such that individual nodes of economic activity couple through production and investment. In the BRI, a mosaic of state and non-state actors performs multiple strategic linkages, allowing new activity to emerge from previously enclosed nodes. One such example is Uzbekistan, victim of its mountainous and landlocked geography. Infrastructure modernisation under the China-Central Asia-West Asia Corridor will benefit multiple Uzbek regions by making them transit points for global trade and investment hubs.
CONNECTIVITY 2.0
While maritime and terrestrial connectivity are as old as strategy itself, the cyber realm is an entirely new form of connectivity that supersedes our traditional economic fabric. Deployment of 5G networks, deep-sea cable systems and smart energy grids in particular raises questions relative to the delimitation of public and private space and enables new forms of national de-territorialisation. That technology wars are 'replacing trade wars' and that outer space – essential for data transmission and connectivity – is re-emerging as a key geopolitical frontier, point to the growing importance of cyber-statecraft.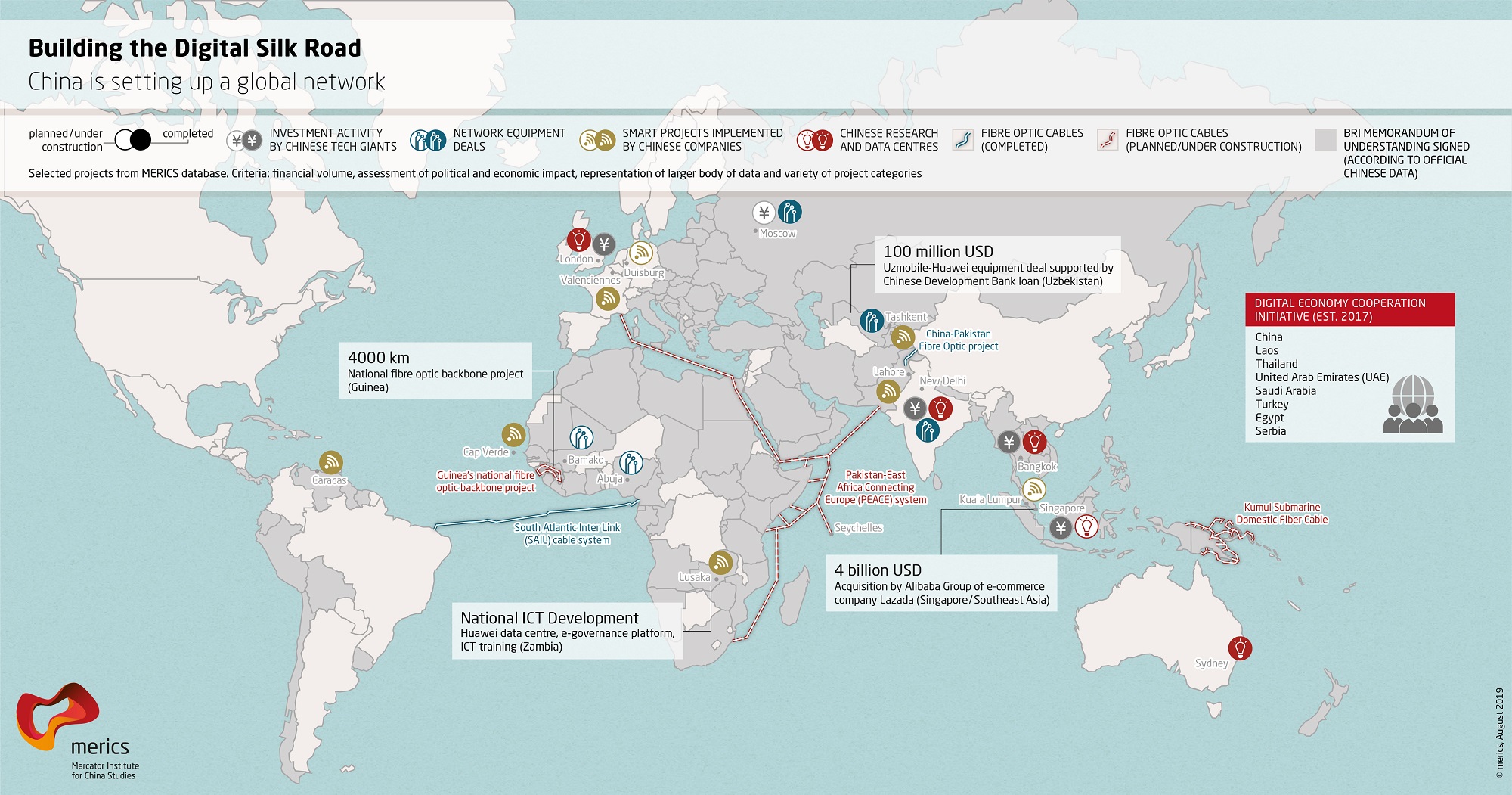 The CCP has constructed a policy narrative that after eight years continues to spur global academic and policy debate. In Google Scholar, the BRI monopolises search results for 'connectivity geopolitics'. Whereas China seeks to create national commercial champions and acquire technological leadership, the EU presents an alternative form of connectivity, based on the promotion of a level-playing field, human rights and rule of law. In its redefinition of connectivity, the EU responds to China's new space for international competition. Europe's multiple strategies to connect further with Asian partners demonstrate its acknowledgement and response to this contextual development.
GREENING CONNECTIVITY
A cornerstone of the EU's current identity is climate change mitigation. Hence finding complementarity between connectivity and Green Deal principles is essential. When talking about a green transition, connectivity means three things – regionalising renewable energy grids, developing environmentally-friendly modes of transport and making sure all connectivity investments respect ESG criteria. As the question of differential responsibility for and vulnerability to climate change continues unresolved, connectivity can serve as a means of diffusing European norms on industrial circularity, sustainable growth and biodiversity protection. Constitutionalising policies at the bilateral level can better stimulate change in domestic regulation. The EU therefore seeks to demarcate itself with the development of both a values-based and green connectivity.